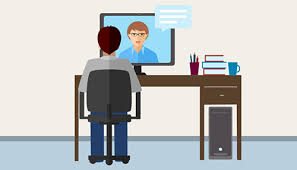 Our worlds have turned upside down since the start of the pandemic, and the stay-at-home order was put in place back in late March/early April. This brought on many changes to the lifestyle of our clients, as well as our therapists. Being that we are considered essential workers, we've had the opportunity to still see clients in the office. However, since not everyone has been comfortable with in-person sessions, as therapists we've had to navigate different ways of meeting with our clients and still providing them with the care during such a challenging time. This opened up the door to Telehealth. We would like to share with you some of our thoughts about virtual therapy and focus on how it has been a positive experience for our team at L & B Counseling.
How have you adapted your lifestyle with Telehealth?
Telecounseling has been great. It has changed my lifestyle because I could stop working at 5:00 or 6:00 instead of 6:00 or 7:00 due to seeing clients in their home. It has allowed me to get home sooner and eat dinner with my family. – Trent
I had to change my space at home first. Since my wife is also working at home, we both created separate work spaces in different rooms. I am able to work earlier since I don't have to drive to the office and I am able to go on more walks throughout the day. Another thing is that I used to meal prep for the week, but working from home allows me to make meals on the fly. – Michael
Being that I'm an introvert, I would say working from home and providing telehealth, I feel that I have been thriving in this kind of environment. It has given me the opportunity to spend more time with my fiancé, bond more with our puppy, and spend the last final months with my dog, who recently passed. However, at first it was an adjustment because I had to learn to set boundaries for myself when it came to work and my personal life. Also, since I don't have to drive and deal with traffic, I've been able to work earlier and finish the day earlier, and that is a plus for me! – Minh
I have truly had to adjust my mindset. Being home and working was very difficult at first, especially with three kids. I felt the desire to spend time with them, however, I had to change my perspective – that work is still work. Telehealth hasn't been too difficult because I've attempted to make my sessions just as engaging as when I was in the office. – Sade
I have been working in a hybrid role since the start of the pandemic. I meet with clients in the office 2 days a week and then do Telehealth the other 3 days. Telehealth has been both a blessing and a curse. I firmly believe that there is no replacement to face-to-face interaction when it comes to building a connection. There's no way around this fact, which has been a huge hurdle for me. However, I love being able to work from home and still see my clients. – Kevin
What positive surprises did you experience with Telehealth?
Telecounseling has been a great addition to our practice because we are able to see people in their homes, which allows us to see where they live. It is a nice by-product to get a better sense of when a parent says a bedroom is a disaster. Our clients get to show off some of the things that they love about their house or see places where they could be challenged. For our older clients going back to college allows us to see them across state borders or back on campus. This is great so they do not have to develop a new relationship with a new therapist, and we can continue to work on the challenges of adjustment, depression, or anxiety. – Trent
I am most surprised by how creative we can get. Individually and as a team we have come up with unique and outside the box thinking of utilizing therapy over telehealth. We have been able to get to learn more about clients when they are in their personal space at home. I was also surprised at how draining telelhealth can be. With that being said, it has allowed me to create boundaries with work and personal life. – Michael
The lesson I learned fast when I started telehealth, was that staring at a screen for hours at a time each day, really drained me, but luckily I have been able to focus on the positives. I have learned that by providing therapy virtually, I have been able to continue on building connections with my clients virtually, when in all honesty, I thought this would be challenging outside the office. Telehealth allowed me to get to know my clients in their personal space and learn more about their interests and personalities, which has really helped to address some of the issues we've been working on. It has also allowed me to get more creative with my clients and challenged me more to think outside of the box. – Minh
Some positive surprises I've had with Telehealth is that my clients, even new, have been very comfortable with doing things virtually. The fear or even assumption was they'd be more distant in virtual sessions or disengaged, however that hasn't been the case. – Sade
Being able to see clients in faraway places has been a huge positive. I am currently working with a client in Boone and hope to see more clients across the state of North Carolina. I am also going to be able to see some clients as they head off to college, which is awesome. Being able to connect with my clients anywhere anytime is a gigantic advantage of Telehealth. – Kevin