Online Mental Health Therapy
For All Of North Carolina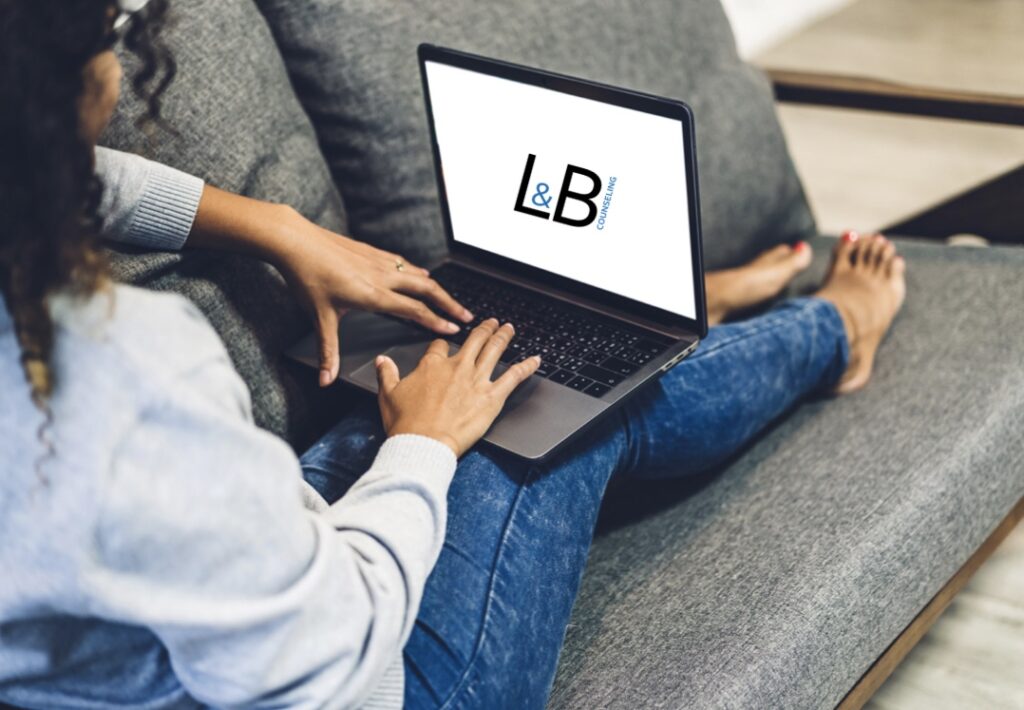 Do you feel like you're too busy for therapy or uneasy about coming into an office?   Are you feeling lost, anxious, or alone in life? Don't let schedules, fear, or anxiety stand in the way of a better life. Our online, experienced therapists can help you find your way to living a better life today.
We make online therapy easy (think therapy in your fuzzy slippers), convenient (in your favorite chair at home), and most importantly, effective for everyone. 
Why L&B Counseling? Our therapists at L&B Counseling specialize in anxiety, depression, trauma, grief, couples therapy, substance abuse, LGBTQ issues, as well as other mental health concerns. We have a proven process that will help you navigate life's challenges to become the best, most authentic version of yourself.
If you're ready to take the next step to a better life, change is only one click or phone call away. 
 Please call 704-247-7353 to make an appointment or click here. OR Choose one of our online, experienced therapists below!
What is Online Therapy?
Online therapy, or tele-therapy, refers to counseling services conducted over the internet. You will meet with one of our experienced therapists via an internet connection and a two-way live video or if you prefer by phone.  Through this platform, you can interact with the therapist just as you would in person.   
This form of therapy is a great option for those that
Need a more flexible schedule

Feel uneasy, worried about privacy, or have physical limitations that hinder one from coming into an office

Live in rural or remote area were practitioners are scarce or live in a busy city where you want to avoid the hassle of traffic
Is online therapy just as effective as  in- person therapy?
In most cases, YES! Online therapy seems to be just as effective as in-person therapy. Studies found online cognitive behavioral therapy (CBT) to be just as effective as in-person therapy in treating moderate depression.  Another review found that online CBT was equally effective as a face-to-face treatment for panic disorder, social anxiety disorder, and generalized anxiety disorder. 
Aaron Yearwood has been amazing to work with. He has genuine compassion, listens well, wants the best for his clients and helps you work through issues to become the best version of yourself.
I see Brittany at L & B, and it has been an amazing experience. The office offers virtual visits which allows me to keep consistent sessions going between college and home. Everyone that I have talked to has been super helpful, punctual, and professional. Brittany is a wonderful therapist and has really taken the time to get to know me and my mental space and she gives me tools to help manage my symptoms while also getting to the root cause of them. And the online scheduler is a huge convenience!! 10/10 recommend going to therapy here.
Such a great place. I feel at home when coming to therapy, i've been going to kirsten cole, she's very well educated and a great therapist! the whole environment is very comforting and I definitely think therapy can make a difference. I've been going for a year or more and it's made such an impact on my life.
I came to L & B with a whole matching luggage set of 'baggage' to unpack. Trent placed me with Shannon and I took a leap of faith. Here I am a year or so later and my life has drastically changed for the better. Therapy is such a personal choice and I'm really glad I chose to reach out to L & B. Shannon-as always, thank you. So much! Duchess and I are forever grateful.
My counselor is Taylor Kracht and I highly recommend her services for anything you're going through! I started seeing her weekly last September but now I see her every 2-3 weeks depending on circumstances and the office is great in terms of employees and environment
We have had such a great experience with L & B . My kids have seen both Trent and Brittany and have both seen such improvements in their day to day and overall mental health. Trent was able to work with my son at a level that he could connect on. He was able to make him recognize areas he might be able to improve in and provide my son with a happier outlook and calmer home environment. My daughter was hesitant to see someone new and Brittany was able to connect with her and make her feel welcome. We believe strongly in mental health and providing someone our kids can talk to. We are grateful for L & B counseling and the wonderful services they offer.
Kathleen Armanios
2022-03-16
Writing online reviews isn't a typical activity of mine, but I feel compelled to share this anyone considering taking this step and considering counseling. Make this call – you won't regret it. I can't say enough positive things about Brittany! The positive impact she's been able to have in my life in just a few sessions is amazing, and the fact that so many life-long, deeply rooted issues have been able to be affected in such a positive way in a such a short time is remarkable. Even more so, she just gets it! Easy to talk too, non-judgmental, AND SHE GETS IT! This is not your typical therapy, it's like working with a loving friend…but get this – it's actually better. I love how no-pressure the entire vibe is. Even after making my first appointment prior to first meeting, I was still questioning if I should've "made the call" and what exactly I was doing, but I never felt pressure about that. I can honestly say that if I didn't want to move forward with another appointment, that it would've been okay. There didn't feel to be any expectations of me, no past/present or future expectations around anything, which was a huge relief as someone who was unsure overall and tends to be weighed down by expectations. Also, I wouldn't think to normally mention this, but have to say - The facility at L & B is so comfortable – clean, soothing, and all-around a place that anyone would want to be. The lighting, sounds, everything – so peaceful. Making the decision to visit L&B and work with Brittany is one of the best decisions I've made. So, if you're reading this and considering, then I would say you should 100% give it a try. You may even end up feeling as compelled as I do to write your first google review afterwards, but if not – that'll be okay too 😉.
Baghead Studios
2022-03-15