Nice to meet you! My name is Brady Smith, and I am a LCSWA. I recently graduated in 2021 with my Master's in Social Work from one of the top social work schools in the country at Washington University in St. Louis. Other than living in St. Louis during this time, I have lived in Charlotte for most of my life.
I started my degree at NC State to pursue a career in engineering. However, during my senior year, I decided this was not the path for me and decided to drop out to find my own path. Through this journey, I decided that I wanted to help others struggling with their own inner turmoil and improve others overall well-being. This prompted me to go back to school and get my undergraduate in Kinesiology from Queens University of Charlotte- to combine my love of sports and scientific background. Once completed, I focused on developing my counseling skills while obtaining my master's in social work in St. Louis with the intention of coming back to help the communities I grew up with. Now that I am back, I plan on providing a holistic and empowering approach with every person I can!
Growing up here I played a wide variety of sports ranging from soccer, football, basketball, rugby (my favorite!), and a variety of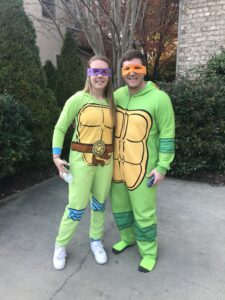 recreational sports whenever I could. While I am not as active as I used to be, that same drive to improve and love for being active still holds true within me. I have been a youth referee and coach for several years for both soccer and basketball, and love playing in adult recreational leagues when I can. Additionally, I am a huge fan of almost all Carolina sports teams (except Duke when they play teams from the Carolinas). Otherwise, I like to spend my free time being around friends and family, reading a wide variety of books, playing video games, or enjoying a fun movie/TV show.
As part of my therapeutic process, I utilize both CBT and solution-based processes as
well as Mindfulness-Based Stress Reduction (MBSR) techniques to help clients improve their overall well-being. I aim to provide a holistic approach to mental healthcare which emphasizes the importance of how our actions, thoughts, and beliefs all intertwine into who we are. I mainly work with adolescents and young adults, however, I will work with anyone willing to improve themselves by challenging their norms and facing the parts not shared openly with others. Change is difficult for everyone, and I promise to stay by your side to help and guide you in every step of your own journey!
If you or a loved one would like to set up an appointment or would like to know if I would be a good fit, feel free to give me a call at 980-202-3042 or send me an email at brady@landbcounseling.net and I will respond as soon as I can.